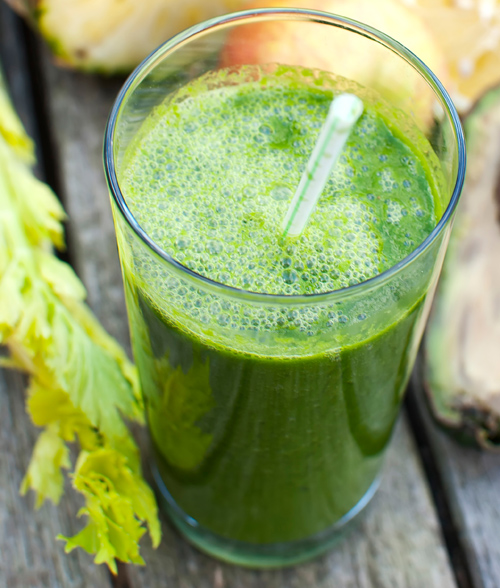 When spring weather feels heavy and humid like the tropics, this refreshing juice can help you stay clear-headed and light. In spring, it's a warm day that makes you sick. Thick, humid air makes you feel swollen, heavy, and stuffy. Your lymph nodes may even swell, indicating a congested liver and blood.
The bitter taste in kale, and sour taste in lemon and apple flush and cleanse the liver by stimulating bile release. Release of bile, a fatty substance, also aids your body yanking winter fats out of the bloodstream. After drinking kale lemonade you may even notice rhythmic contractions of the gall bladder as it pumps bile into the small intestine.
The pungent taste in ginger re-ignites circulation and digestive fire while it dries up a runny nose. As Kale Lemonade is alkalizing and Pitta-reducing, drinking it cools and refreshes the eyes.
Ingredients:
1 whole apple (raw)
1 inch fresh ginger
1 lb. of kale
1/2 of a lemon
Preparation
Squeeze the juice from the lemon and core the apple. 
You can make kale lemonade in a juicer or a blender. You may need to chop the kale, or toss it in a food processor if your juicer or blender has trouble grinding it up. If you plan to use a blender, add all ingredients plus one cup of water, then blend and strain.
Source: http://www.joyfulbelly.com/Ayurveda/recipe/Kale-Lemonade-with-Ginger-Apple/5142