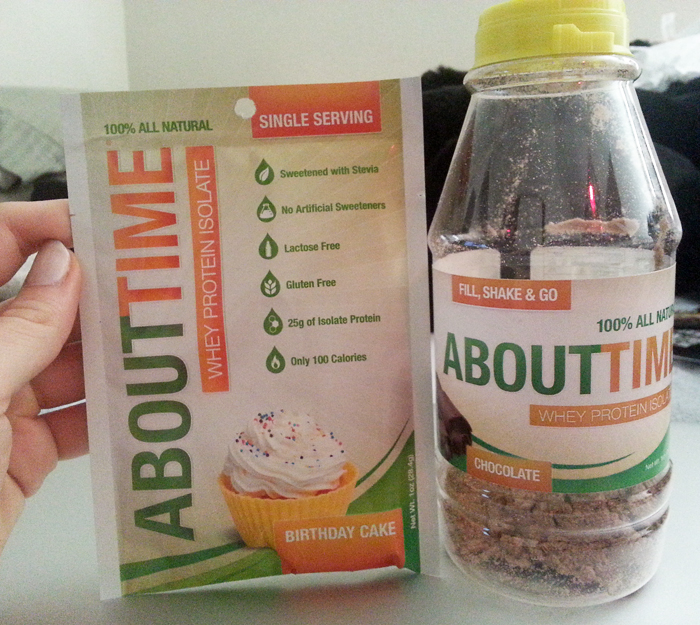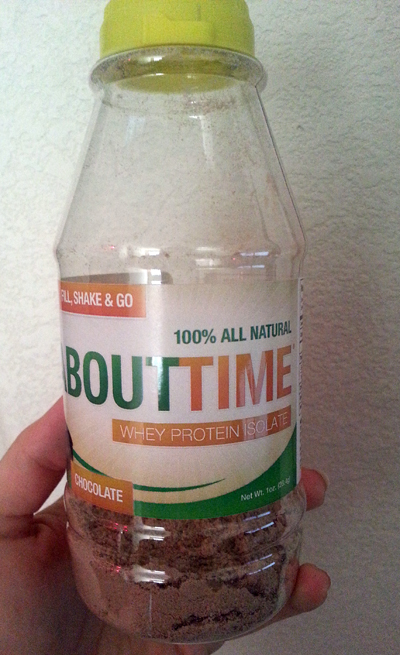 I was given a sample of this protein in both the chocolate and birthday cake flavor at the Olympia bodybuilding convention here in Phoenix this year. I am always wary of protein powders, as many of them have unwanted ingredients along with the protein.
This wasn't the case however with About Time All Natural Whey Protein, which has only four simple ingredients on their label.
Ingredients:
One scoop of the powder contains 24g of protein on average, zero sugar, over 80mg of potassium, 25% DV of calcium, virtually no cholesterol and no sugar. The ingredients list, as mentioned, is very straightforward and the powder is sweetened with stevia. It is also lactose + gluten free, and only has 1g of carbs per scoop.
It doesn't make use of whey protein concentrate in its ingredients, which can be a benefit for people with irritable bowel syndrome, as whey protein concentrate can sometimes upset people's stomachs.
Taste:
Chocolate: Tasted great! However I typically blend my protein powders with almond milk, bananas, cinnamon, and ice, so I'm not quite so much in a place to judge the taste of the powder by itself. I'd probably know if it tasted horribly, though. It blended in well and in general the solubility is touted to be high for this powder.
Birthday Cake: Also tasted yummy, was a bit of a mild flavor, and blended well. I am more of a fan of the chocolate, though, because there's more you can do with it as far as making smoothies, and I think overall it just tastes better than the birthday cake flavor.
I'm still not sure I'd replace it with my current protein powder (which is Optimum Nutrition 100% Whey Gold Standard™ Double Rich Chocolate), as Optimum Nutrition includes enzymes that enhance the body's ability to absorb and use the protein. About Time has flavored the powder with more natural flavors however, rather than Optimum Nutrition's artificial flavors, which is an added benefit of About Time.
Overall though this is a protein powder that many people think highly of and I would not hesitate to recommend it to people.